«Na Terra fomos esperados. A nós, como a cada geração precedente, foi concedida uma frágil força messiânica sobre a qual o passado exerce uma pretensão. Não é justo negligenciar uma tal pretensão.»

Walter Benjamin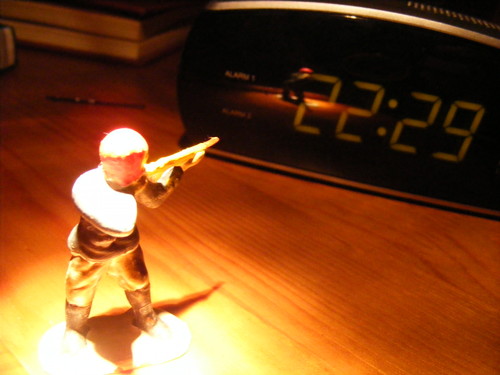 O tempo capitalista, isto é, o tempo não vivido, o tempo dividido para melhor ser explorado em prol do lucro é tempo de vida perdida: aceitamo-lo porque o trocamos por dinheiro (capital do qual directa ou indirectamente, contínua ou intermitentemente, de um modo ou de outro, todos precisamos para sobreviver na/à civilização capitalista global). Mas, este modelo de sobrevivência, está de tal maneira enraizado no corpo e no espírito dos que têm para trocar apenas a sua força de trabalho - seja qual for o grau de especialização que a cobre - que se algum grupo de trabalhadores exige através da paralisação de um determinado canal de mercadorias que o desmembramento da sua vida não seja aprofundado, prejudicando pontualmente com esse acto não apenas a economia mas, inevitavelmente, também um conjunto de utentes do seu sector de actividade - para que a sua estratégia de luta seja criminalizada e desqualificada pelas massas compactas e amorfas; que são manipuladas pelo cinismo dos governos e pela hipocrisia dos sindicatos legalistas.
O governo do reino de Espanha reagiu à «greve selvagem» dos controladores aéreos do modo mais demagógico possível, sacando dos argumentos mais previsíveis que os Estados ditos democráticos herdaram dos seus antecessores fascistas. Não é espantoso que contra a greve se apele aos sentimentos mais mesquinhos e egoístas que os seres humanos podem conter em si. Acusar os grevistas de chantagem, ou de manterem os cidadãos reféns nos aeroportos, é um método simples e barato para - antes de usar o punho de ferro do exército - agitar a «opinião pública» e direccioná-la contra os trabalhadores em greve. A partir daqui, os dados estão lançados para que se recorra à força, e à militarização dos sectores que forem considerados indispensáveis para o normal funcionamento da economia.
(...) O fascismo vê a sua salvação no facto de permitir às massas que se exprimam mas, de modo nenhum, que exerçam os seus direitos. As massas têm o direito a exigir uma alteração das relações de propriedade; o fascismo pretende dar-lhes expressão, conservando essas relações.(...) Walter Benjamin
Torna-se cada vez mais evidente que o funcionamento da economia capitalista está acima de qualquer direito, e que o exercício dos direitos (ou a luta por eles), só é admissível enquanto não for prejudicial para a economia. A cidadania, que a classe dominante e os seus representantes não se cansam de pintar como um delicado dispositivo em que direitos e deveres se contrabalançam, desmorona a cada tentativa radical de aplicar os princípios éticos que a fundam. Ora, para que servirá o «direito à greve», se este não se puder expressar fora de um conjunto de directivas que desarmam qualquer hipótese de uma Greve se tornar transformadora, atingindo as  suas causas e os seus causadores?
Quando o «Estado de Direito Democrático» define deste modo os limites da participação cívica nos destinos da urbe, não faz mais do que revelar a verdadeira natureza (repressiva, centralizadora e autoritária) do Poder Estatal. Na verdade, no que diz respeito à aplicação concreta dessa natureza, não difere, se não em quantidade, do modo fascista de exercício do poder através da arregimentação das massas. Estas podem expressar-se, desde que com isso não alterem o seu destino, isto é, desde que não se constituam em classe, quer dizer, que não deixem de ser massa.
(Walter Benjamin) alertava-nos para o facto da história dos oprimidos nos indicar que o estado de excepção em que vivemos ser a regra. Falava aos que tinham como missão derrotar o fascismo que dominava a Europa do seu tempo. Os actuais Estados europeus não brotaram espontaneamente do solo sagrado dos seus mitos, nem dos propalados valores e virtudes culturais e políticas (herdadas das civilizações ocidentais clássicas e do cristianismo); saíram das entranhas de ditaduras brutais e de guerras inacreditavelmente devastadoras (que nunca deixaram de se apoiar  e justificar na defesa do mesmo substrato cultural das recentes democracias ocidentais).
Os recentes acontecimentos na Europa, ocorridos precisamente nos países que continuam a reivindicar-se os mais livres e democráticos do mundo, lembram-nos daquilo que nunca nos devíamos ter esquecido, isto independentemente das reformas democráticas que séculos de lutas sociais conseguiram impor nos Estados modernos. É que das Monarquias Liberais e Constitucionais às Democracias Parlamentares, passando pelas Repúblicas jacobinas e pelos Estados totalitários, isto é, independentemente dos regimes de gestão e controlo da sociedade, todos eles  tiveram (e têm) como finalidade última apresentar e defender o modelo definitivo (ou mais eficaz) de manutenção da ordem capitalista e, com ele, as ferramentas repressivas ou dissuasoras para todos os que se erguerem contra a ordem vigente.
Quem está à espera de avião nos aeroportos tem que compreender que a facilidade com que hoje se apanha um avião e se viaja de A a B, não é uma dádiva divina nem um fruto natural do progresso; depende de uma máquina muito bem afinada - todavia frágil -  que depende (ainda) de mulheres e homens de carne e osso dos quais a máquina se alimenta. Estes homens e estas mulheres têm aspirações e angústias que não podem ser silenciadas lembrando-lhes simplesmente que são, entre os oprimidos, uma fracção «privilegiada» de oprimidos.
O que os media corporativos não podem perguntar aos clientes nos aeroportos - sob pena de inadvertidamente fazerem despertar alguém do transe do conformismo - ou de se depararem com alguém já desperto que lhes respondesse de modo imprevisto -  é se não concordam que o seu  (direito ao) conforto é alavancado pelo esforço de terceiros, para o qual não contribuem de outro modo que não pelo simples pagamento de um determinado conjunto de serviços ao patrão dos servidores.
Seja qual for a razão pela qual alguém possa pensar que pode obrigar outro alguém a trabalhar - por muito bem que esteja disposto a pagar  - essa pessoa estará mais tarde ou mais cedo pronta também para aceitar a escravatura pura e dura. Quem usa como argumento contra a greve que ela é um incómodo para os cidadãos, não hesitaria (se o que resta da sua consciência assim o permitisse) dizer que a abolição progressiva da escravatura foi/é um incómodo para os senhores de escravos.
Nos momentos em que o ciclo de morte da mercadoria nos divide em castas de serventes e servidos, isto é, quando nos coloca na pele de consumidores; quando os cidadãos se transfiguram em clientes, o conceito moderno de cidadania, e a sua falsa consciência, degenera num derivado mercantil que é a sua verdadeira face: em que ser um cidadão-consumidor é sinónimo de superioridade, um estatuto que confere ao seu portador o poder de tratar de cima para baixo os que circunstancialmente se encontram no outro extremo do circuito, o de cidadãos-produtores. É nos nossos momentos de consumo, e não dos de produção, que nos tornamos verdadeiramente escravos dos nossos miseráveis salários. Porque é precisamente nesses momentos que cessamos de ser solidários e nos tornamos odiosos reprodutores da lógica dos que lucram com a miséria; dos que desde cima nos comprimem, dia-a-dia, para nos manterem uma viscosa pasta de moluscos humanos: aquilo a que pomposamente nos habituaram a designar de sociedade.
Tão maus como estes, ou piores ainda, são os que pretensamente vindos de baixo - e empurrando desde a esquerda - não fazem outra coisa que não seja facilitar a tarefa da trituradora que labora lá em cima, fornecendo-lhe um recipiente estanque à maneira. O desespero estampado nos rostos humanos dos controladores aéreos não é outro que não aquele que sentiria qualquer vertebrado obrigado a viver por algumas horas numa fenda onde apenas se sentem seguras e confortáveis criaturas às quais uma intervenção/mutilação cirúrgica de larga escala - ou uma terrível mutação - arrancou o esqueleto.
Nenhuma proposta verdadeiramente radical pode começar o seu caminho que não seja com um forte e solidário «que se foda a sociedade!».  
Noise is best defined as interference.
– Simon Reynolds, 1990, p.55
When the real world is transformed into mere images, mere images become real beings – dynamic figments that provide the direct motivations for a hypnotic behavior.
– Guy Debord, 1962, p.11
The consequences of capitalism in the modern society are the responsible factors for the birth of Debord's The Society of the Spectacle (1967). There he argues that reality becomes a fake universe of "images" that mediate the subject's relation to real life alienating one from it. This phenomenon also changed many paradigms of society's everyday life, everyday environment, therefore changing social, political and artistic practice paradigms as well. The spectacle is responsible for the fragmentation of life in separate individual cells that less and less connect to each other at a social level (e.g. religion, art, science, philosophy, etc.).
Throughout this essay I will try to relate nowadays spectacle to art and its relevance in our social-political environment to express a force of resistance to it, a struggle toward freedom. For this purpose, I will finally focus on the topics of noise and free improvisation, regarding formal, aesthetical, political and social issues I consider to provide it with coherence and strength as a form of rebellion against this spectacle.
Vanguards Art Life
One may consider that throughout western history, the art of the avant-garde has always had a significant political importance, and cannot ever be detached from its cultural and social-political contexts, for it functions as part of and directly merged to them. The search of the vanguard artists for new forms of expression, representation, aesthetics are searches for new ways of the artist himself relating to nature (understanding nature as the whole environment around us, either organic or artificial), as best as one can, being whom one is. This can clearly be understood as the search for newer or purer forms of freedom, the embracing of life through art and a proposal of a new world.
Modernists (such as the Dadaists) from the beginning of the 20th century were already questioning the industrial revolution's society and the consequent sectioning of life by the new economic system that was capitalism. "Art" was questioned, and modernists intended to abolish the reigning idea of art of that time in order to dissolve it in a wider and freer concept of life. John Cage was a post-Duchamp inheritor of this philosophy, and his written and sound works corroborate that. Cage states that 'Art = imitation of nature in her manner of operation' (1982), supporting Adorno's aesthetical theory that 'Art doesn't imitate nature [physically or morphologically], nor any singular natural beauty, but the natural beauty itself' (1969). Cage searched a way of melting/clashing the act of creation (intention) with the natural happening of life (non-intention), which, would ultimately sum up to equal the only possible form: life; for the splits subject-object, art-life disappear.
These splits Cage talks about and tries to destroy, which separate things that cannot be tore apart from life, can in a way also be acknowledged in Debord's criticism of modern society's political-economic system.
Capitalism functions as the main reason of this division of life. Capitalism works as a generator of "images" (i.e. representations, mental conceptions) of a reality that is not the real one, an adulteration of reality, which works only in favor of that fake reality – the spectacle. The spectacle is the one responsible for the separation of life from life's social relations (also maintaining the social classes system), creating an illusory world divided in independent cells which we call specialties: philosophy, religion, art, science, etc.
The reigning economic system is a vicious circle of isolation. Its technologies are based in isolation, and they contribute to that same isolation.
– Guy Debord, 1962, p.15
The Spectacle and Art
We can consider Debord's concept of spectacle as a form of noise, for it works as an interference, a spectre that blurs the perception of reality, which alienates us from real life, keeping us in a misconception of the real that is mediated by images we mistake as life. This kind of noise is the abstraction that fills the standard environment of the modern metropolis, materialized in pictures, sounds and social relations. In our everyday common lives, we are constantly raided by images and sounds that impose themselves imperially on our own personal space, which we quickly learn to ignore consciously, maintaining it as background, environmental noise, while on our everyday repeating bus trip to work/home.
This noise of life consumes people.
Art, today, is bourgeois. There is little interest in visiting galleries or museums for they work as cemeteries of images we can't swallow anymore; they are an organized exposition of more anesthetic white noise, which is just another cell of spectacle. Artworks become decorative trinkets and galleries become bourgeoisie's "pubs" or "catwalks".
There is a widely held view that beauty and harmony are a lie, presenting a bourgeois vision of nature and society as fundamentally balanced and ordered.
– Simon Reynolds, 1990, p.56
Art has fallen into the numbness of the reigning economic system by becoming one of its sectors and gave up being the exaltation of life to become just another commodity, merchandise.
The spectacle is capital accumulated to the point that it becomes images.
– Guy Debord, 1962, p.17
The ruptures and achievements of the vanguards of before are kept as mere beautiful memories of actions taken as experiments with no outcome and joint back to the same spectacle we're drowning in today. Culture is now just another image. Museums are cemeteries of dead poets. They bear history of humanity as artifacts of spectacular imagery. Museums are institutionalized prisons of free spirits and thoughts of yore. They retain philosophical and political "bombs" like big bags of money. Art becomes currency.
When nations grow old, the arts grow cold and commerce settles on every tree.
– William Blake, 1800
Improvising noise
Capitalism is a system that has no philosophical pretensions, which is not in search of happiness.
– Slavoj Zizek, 2009, p.25
When art is being this corrupted by capital and getting further and further away from life, the ones who intend to create ask themselves what path to take? What to strive for? What's the pertinence of art? What should it be in society and how should we use it?
As stated before, art strives to complete freedom of human expression and can't ever be detached from its social-political context; therefore, the role of the creator should be reconsidered when freedom should be the goal. Art acts as a political stance and political stances are reflected in the arts practices.
Ways have to be developed in order to resist the threats to our creative freedom from the reigning economic system, the spectacle. Art needs to descend from its intangible ivory tower to become a communal experience where social relations are explored through one's individuality instead of one's individuality being explored by an alien social circle.
This is something that can be achieved in an improvised environment. In free improvisation, what happens is the direct creative (therefore the freer possible) relationship between people. The distinction between the "player(s)" and the "audience" is to be blurred for their relationship becomes symbiotic as they both share the same environment. This doesn't mean it must be a pleasant experience, just, stuff happening at a specific time and space, an environment, a situation.
Immediacy happens and should be empowered, explored. A time-based piece is only about the moment it develops in. There isn't the attempt to achieve divine goals, therefore, an improvised piece must be a reflection of the relation between people in the time period it is constrained in, the social effect, the exploration of the moment-site characteristics and variables.
A recorded piece means nothing when not audible, unlike the tree that falls alone in the forest.
The music occupies the time and space of its production, and only that.
– Paul Hegarty, 2007, p.50
Free improvisation is directly related to noise, for it consists in one's liberation from the pre-established formal conventions that confine "styles", and free improvisation is the conscious resignation to style other than one's self output in relation to the surrounding environment in a specific time space.
We may say that noise is a more specific case of free improvisation, where "anti-virtuosity becom[es] a virtue [and there is] a nihilist approach to improvisation" (Mattin, 2008, p.173).
Pornography is the unconsciousness of sex. So, Noise is the unconsciousness of music.
– Merzbow, 1997
Noise is something that is unpleasant, something that gets in the way disturbing the point of focus. It is something annoying.
Noise music is the exploitation of that, with the difference that it is in fact the point of focus when it is played; therefore, the perception is changed.
Noise is the absence of meaning, just violent expression. Therefore noise music represents a reflection of reality, in the way that it brings the spectacle down to real life. It reflects the noise that keeps life from being real, the alternate reality that is fake. It directly interferes the spectacle of images and presents itself as violence, disorder, nonsense, freedom. It is what human beings are about when freed from any kind of social treaties; it is a full release from self. It is not about consciousness, it is not about intellect, but about direct pleasure, jouissance.
Noise, unlike music (let's put it this way), is not in the search for greater forms of harmony, its goal is not divinity but humanity instead. It is a reach out to nature and not god, understanding nature as something as reachable as humanity, for our nature is humanity and that is the way we are inserted in nature.
[Noise] is a radical deconstruction of the status of artist, audience, and music.
– – Csaba Toth, 2008, p.27
–
Noise is radicalism, it is resistance, counter-culture, hedonism. It is the subversive product of the industrialized world of late capitalism.
The effects of (…) culture are too much noise everywhere. I want to make silence by my noise.
– – Merzbow, 1997
–
Noise is the beheading of Perseus by Medusa.
Noise is Mythos as opposed to Logos.
Noise is Human and Reality.
Noise is Freedom.
Sources

Adorno, Theodore, 1969. Aesthetic Theory. New York: The Continuum International Publishing Group Inc.
Blake, William, 1800. On the Foundation of the Royal Academy.
Cage, John, 1961. Silence. Middletown: Wesleyan University Press.
Debord, Guy, 1962. The Society of the Spectacle. London: Rebel Press.
Grosz, Elizabeth, 2008. Chaos, Territory, Art: Deleuze and the Framing of the Earth. New York: Columbia University Press.
Hegarty, Paul, 2007. Noise/Music: A History. New York: The Continuum International Publishing Group Inc.
Mattin, et al. 2008. Noise and Capitalism. San Sebastián: Gipuzkoako Foru Aldundia-Arteleku
Toth, Csaba, et al. 2008. Noise and Capitalism. San Sebastián: Gipuzkoako Foru Aldundia-Arteleku
Merzbow, 1997. 'The Beauty of Noise': An Interview with Masami Akita of Merzbow. In Cox, Christoph & Warner, Daniel eds., 2006. Audio Culture—Readings in Modern Music. New York: The Continuum International Publishing Group Inc.
Reynolds, Simon, 1990. Blissed Out: The Raptures of Rock. In Cox, Christoph & Warner, Daniel eds., 2006. Audio Culture—Readings in Modern Music. New York: The Continuum International Publishing Group Inc.
Žižek, Slavoj, 2009. First as Tragedy,Then as Farse. London: Verso.
in RIⒶT Radio (http://riatradio.blogspot.com/)